Quality of life has never been at the forefront of people's minds like it is today. One of the ways it's most demonstrated is the focus on aging-in-place with dignity. Seniors and their families want to age in their homes and, with proper aging-in-place renovations, can do so comfortably and safely, easing worry, preserving independence, and saving money.
Aging-in-place is the adaptation of a residence to meet its inhabitants' current and future needs. Ninety-four percent of today's older Americans (defined as 65+) want to stay in their homes as long as possible. As of 2010, this group accounted for 13% of the population (40 million people). That number is projected to increase to 20% of the population by 2030. The reasons for staying home vary, including financial savings, an increased sense of safety, personal autonomy, and pride. 
Why Renovate for Aging-in-Place
The cost of long-term care in the United States is increasing, putting a strain on retirees and their families. As a result, the option to plan for the future by renovating a house has become an attractive alternative. Costs for assisted living vary from state to state, but averages for monthly long-term care expenses look like this:
Private nursing home room: $8,364 per month

Semi-private nursing home room: $7,362 per month

Assisted living facility: $3,862 per month

Adult day health care: $1,562 per month
And though the upfront expenditures to renovate your home may be expensive, the investment will be less than the cost of assisted care, plus you get to live in the comfort of your home. 
Aging-in-Place Modifications
By preparing your home for the future, you can look forward to maintaining connections with neighbors and your community. You'll have the opportunity to keep daily routines like walking the dog, getting the mail, and gardening. Studies demonstrate that socialization and structure fend off depression and anxiety in seniors. 
Not all preparations for living at home later in life come with a hefty price tag. Some basic renovations, including lighting and flooring, can be economical DIY projects depending on your tolerance for home improvement projects. 
"…you'll want to hire a trusted General Contractor (GC) who is a

Certified Aging-in-Place Specialist

(CAPS)."
Lighting Improvements
Our eyes start to deteriorate well before we reach age 65. Take advantage of the cost-effectiveness of lighting improvements early and cross off one thing on your aging-in-place checklist.
Install oversized light switches

Use automated garage door openers 

Purchase larger digital display options for remote controls, phones, and screens

Use cord covers to prevent tripping and falling 
Flooring Improvements
Falls happen thanks to loose rugs, curled mat edges, and slippery mats. Here's how you can eliminate these potential pitfalls:
Secure rugs using double-faced, anti-slip rug tape to firmly secure the edges of all area rugs to the floor. 

Install anti-slip flooring throughout the home.

Consider varying the colors and textures of the flooring used throughout the home to provide better visual guidance.
When to Contact A General Contractor for Your Aging-in-Place Renovations
When it comes to more involved projects like your kitchen and bathroom, you'll want to hire a trusted General Contractor (GC) who is a Certified Aging-in-Place Specialist (CAPS). These individuals have received specific technical training, business management, and customer service skills required to conduct home modifications for aging-in-place remodels. In addition, they will reasonably quote the job, hire reputable subcontractors, purchase the materials, delegate the work, and keep your renovation on a timeline.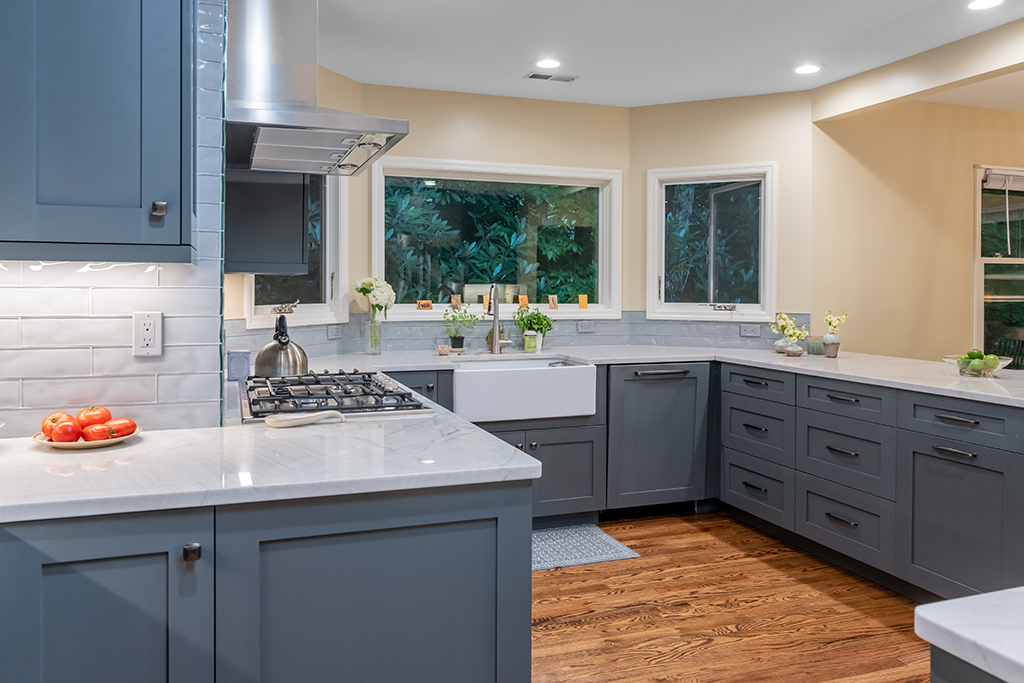 The Kitchen
Employ a GC to ensure your kitchen meets appropriate aging-in-place needs:
Cabinets—Your average kitchen should be renovated with

pull-down shelves

for wall cabinets and pull-out drawers for base cabinets. This eliminates the need to reach overhead. 

Sinks—Install new sinks so that anyone in a wheelchair or scooter can pull up underneath them. Furthermore, cumbersome knobs should be replaced with levers or no-touch faucets.

Counters—By using a matte finish, there is less glare for aging eyes.
Other considerations include updating appliances and widening kitchen doorways, both of which can be discussed with your GC.
The Bathroom
The bathroom is one of the most important places in your home that will require an aging-in-place remodel. There is enormous potential for serious injury due to falls. Ways to improve safety include:
Grab bars

—Better handles make getting in and out of the shower safer and easier. Install them inside and outside if you have a tub. 

Install showers

—The best option is a roll-in or barrier—free shower with no curb equipped with grab bars and a built-in bench. 

Flooring

—Add slip-resistant floor tiles. They'll provide safety for everyone's time in the bathroom. 

Toilets

—A seat extender on a standard toilet is better suited for people with mobility problems. Check the Americans with Disabilities Act to ensure they meet their requirements.

Sinks

—Wall-hung sinks with a spacious vanity allow someone in a wheelchair to roll conveniently up to the basin.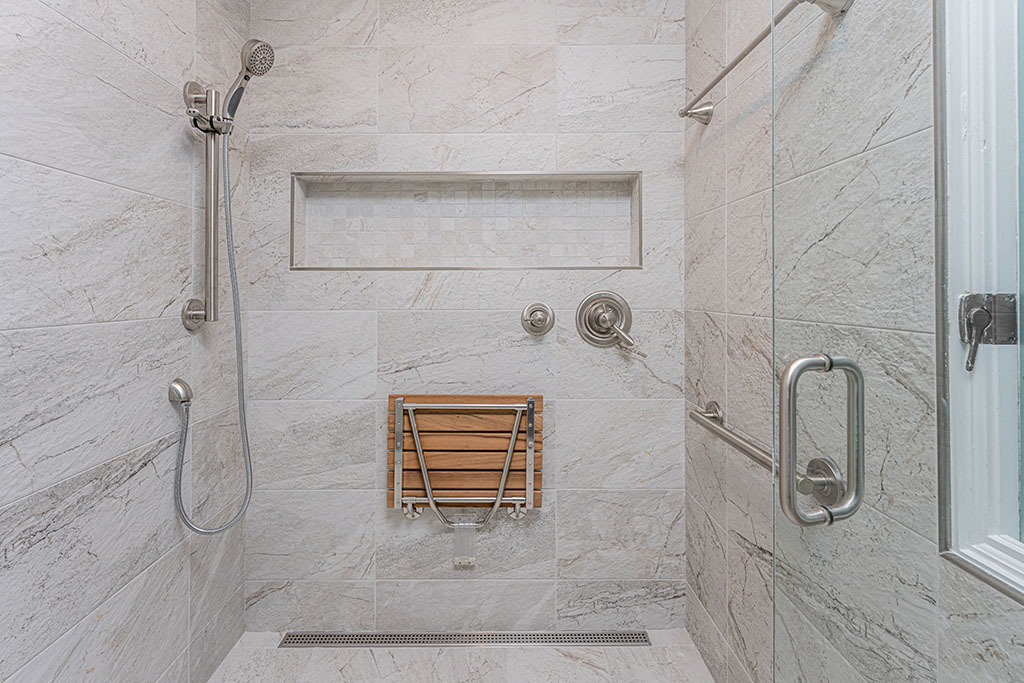 How to Pay for Home Modifications
Thankfully, there are payment options available for aging-in-place modifications. This way, you can begin your planning process early and begin your implementation well before the improvements are needed. Look into opportunities like these:
Home equity line of credit—

If you have considerable home equity, you can borrow against it in a home equity line of credit to finance home modifications.

HELOC

interest rates tend to be low since your home is collateral for the loan, and you can draw funds from it as needed.

Home equity loan—

A home equity loan is a lump sum used to make home modifications. Like HELOCs, home equity loans tend to have a relatively lower interest rate than a personal loan because your home is used to secure it. With a HELOC, you deduct interest up to $750,000 of the loan if funds "substantially improve" your home.

Personal loan

—Best for those with good credit, a home improvement personal loan from a bank, credit union, or online or peer-to-peer lender generally doesn't require a lien to be placed on the home.

Reverse mortgage

—If you're 62 or older and own your home, you may be eligible for a reverse mortgage, which converts a portion of your equity to cash while allowing you to continue living in the home. A

home equity conversion mortgage

(HECM) is one of the most common kinds.

State housing finance agency loans

—

Some funds are provided by the Older Americans Act, given out by Area Agencies on Aging (AAA). Often, there are income-limit requirements. Check for an HFA in your area to learn your options.
When to Start Renovating
It's never too early to start planning your aging-in-place renovations. After all, we're all getting older one day at a time. Plus, many renovations, like updated flooring and lighting, just make good safety sense. Research GCs in your area who are CAPS certified, like Semper Fi, and speak with them about the aging-in-place recommendations they have for your home, and you'll be ahead of the game. That way, you'll have peace of mind and the knowledge that your home is ready for your family's present and future dreams.