The Stylish 5-Star CAPS Bathroom Remodel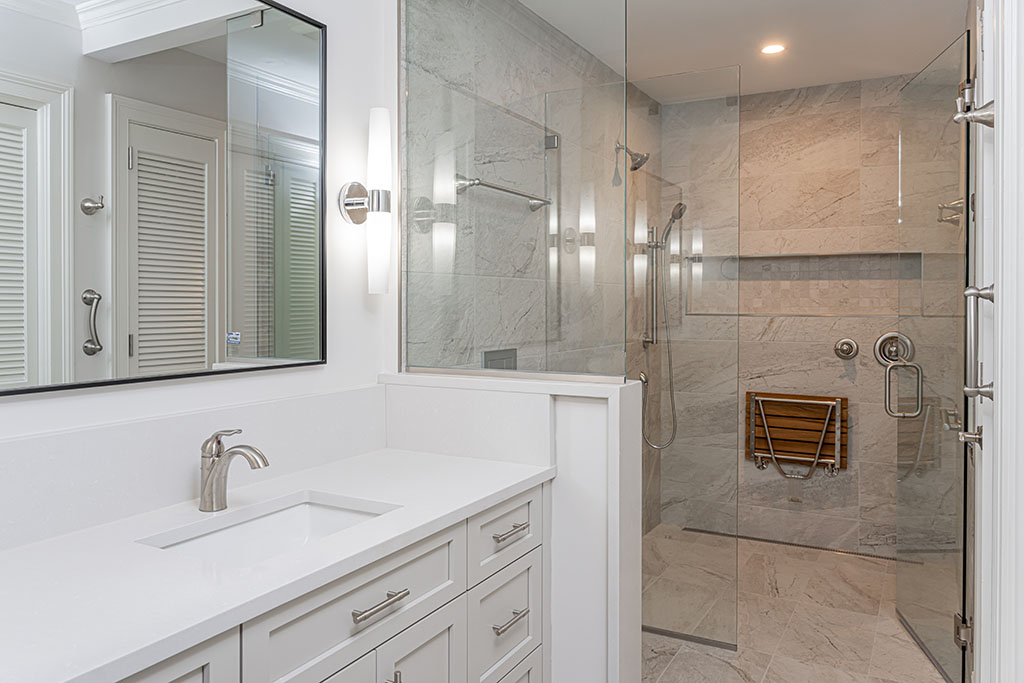 The goal of this bathroom was clear: create a bathroom that is just as glamorous and safe as the homeowner deserves. The outcome was this modern and tasteful Aging-In-Place bathroom. The classic white with stainless steel accessories and a large, warm gray tile gives you a clean and luxurious feel.
The wall-mounted toilet with push flush buttons allows easy use even with a variety of ailments. It also allows for easy cleaning. No more straining to clean around the toilet! Of course, there are plenty of grab bars throughout the bathroom to improve stability and increase one's ability to move throughout the bathroom unassisted.
The curbless shower removes trip hazards and facilitates those with poor to no knee range of motion to use the shower safely. The shower is large enough room to allow for a caregiver to safely provide assistance if required. The folding shower seat also provides flexibility and maximum mobility clearance. The shower features a fixed shower head and a hand-held showerhead. The level style shower trim kit allows use even with restricted use to hand and wrists. The shower is enclosed with a large frameless glass wall and door. The glass enclosure does not obstruct your view down this gorgeous bathroom while allowing easy use of the shower.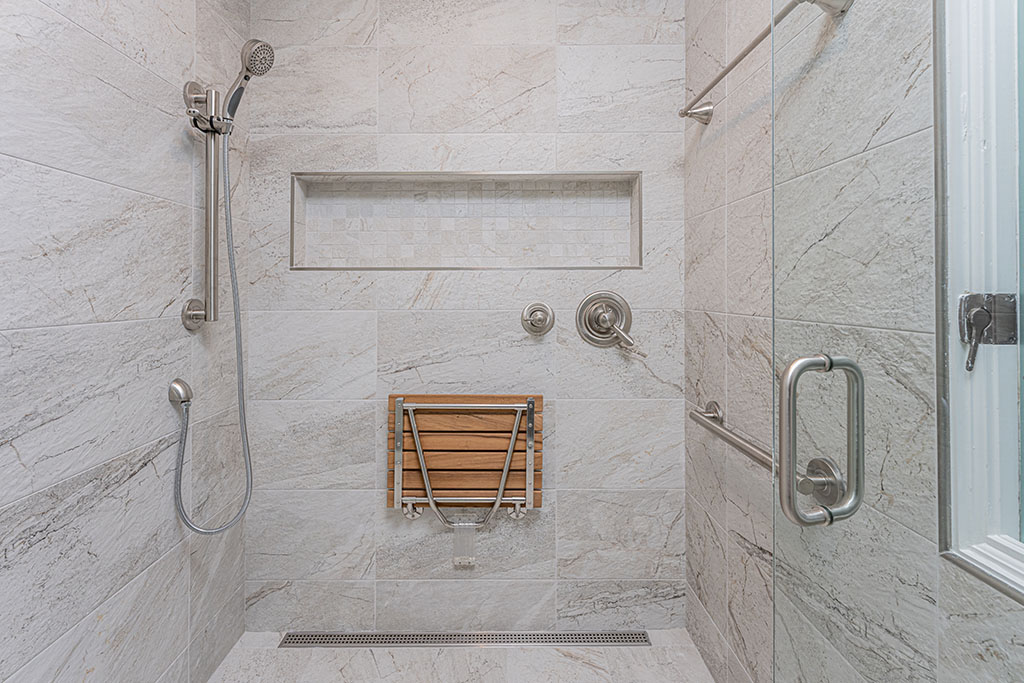 The large vanity, which has a white marble countertop and a rectangle under-mount sink, is well lit by 2 sleek vanity lights on either side of the vanity mirror. Recessed lighting was placed throughout the bathroom to improve visibility. A low-sones vent/light combo was installed to reduce moisture build-up and slipping hazards. A large amount of closet space provides enough storage to reduce clutter. With all the storage space offered between the large vanity and closets, tripping hazards or the need to reach and stretch to find an item has been eliminated.
This modern and tasteful bathroom demonstrates you don't need to compromise style for safety. Anyone with accessibility issues or those who are aging-in-place will find great comfort and freedom using this bathroom.
You can view the full Stylish 5-Star CAPS Bathroom Remodel gallery click here!