Company News & Industry Trends - Q4
---
Welcome to the FOurth Quarter Newsletter of 2020
October - November - December
---
Within this blog, look for:
A Featured Project
Remodeling Trends and Tips
Award-Winning Projects in 2020
---
Welcome . . . to our last newsletter for 2020.

Happy New Year! We hope that you've had a healthy and happy holiday season. It's been a strange and challenging year, to say the least. Whether you suddenly found yourself homeschooling, working remotely, simply trying to stay safe (and sane), or a combination of all the above . . . we can all agree, we're ready for 2021!
2020 certainly had some memorable highlights and exciting changes for the Semper Fi team. We were delighted to add three more full-time employees to our team in 2020, to continue to offer the best service and support to our clients as we became busier than ever this year.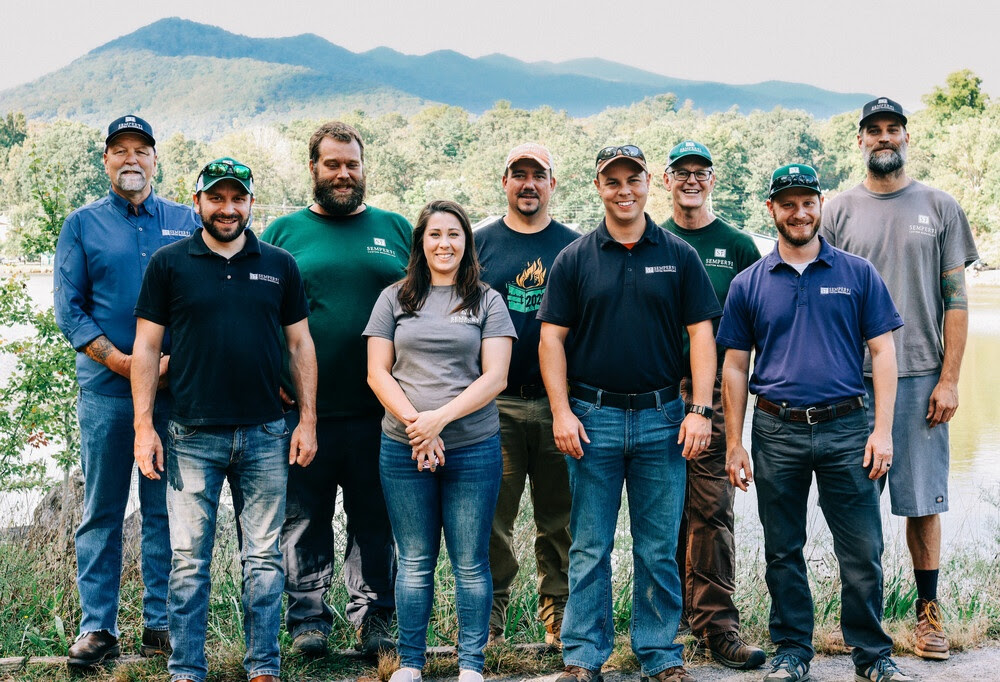 Thank you to our friends at Asheville Native Photography for our new team photos . . . who knew the Semper Fi crew cleaned up so well?!
We also were honored to receive five WNC Stars Awards from the Asheville Home Builders Association in November. We are very proud of our hard-working team for their accomplishments this year, and deeply thankful to our clients for the privilege of being trusted with your homes. Take a look at our winning remodels at the end of the newsletter, and let us know which one is your favorite!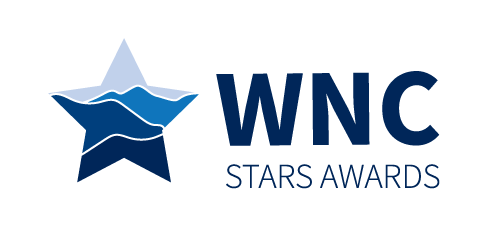 ---
---
FEATURED PROJECT:
Craftsman Whole Home Remodel
---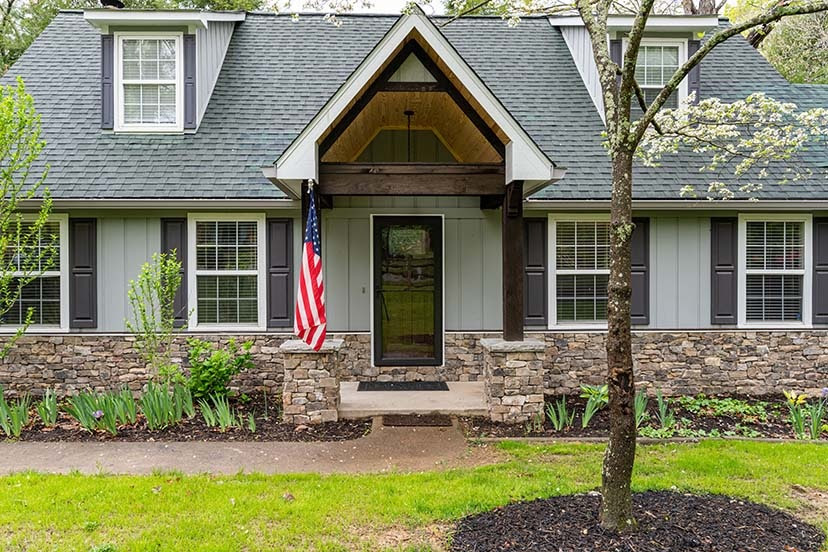 Our featured project for this newsletter is a beautiful Craftsman Whole Home Remodel. This home was mindfully designed using our Aging-in-Place Certification to give these wonderful owners optimum comfort in their home in the future. We also refreshed the exterior with a vaulted entry and beautiful stonework, designed to accentuate this home's idyllic mountain surroundings.
When remodeling a home to ensure that it will be accessible for years to come, we use the principles of "universal design" - which incorporate a high level of flexibility, ease of use, and comfort. Let's take a closer look at this home's updated features!
---
In the kitchen, we removed several walls to enlarge the room, which allows more space to easily maneuver. We created a walk-in pantry with an additional accessibility window, low cubbies, and a lazy Susan to reduce the need for reaching. We installed under cabinet lights for better visibility. We also added a large window for increased natural light and refreshing outdoor views!
---
---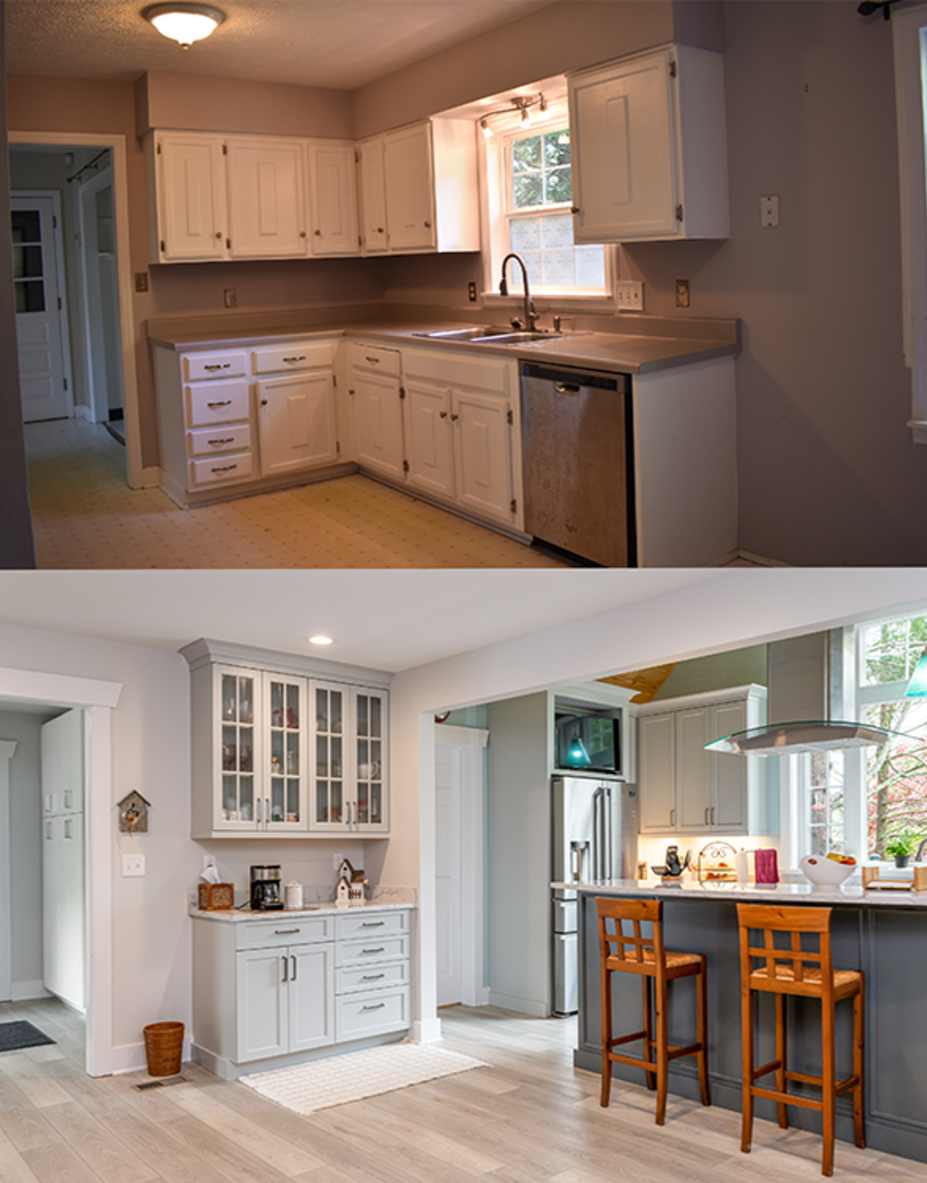 ---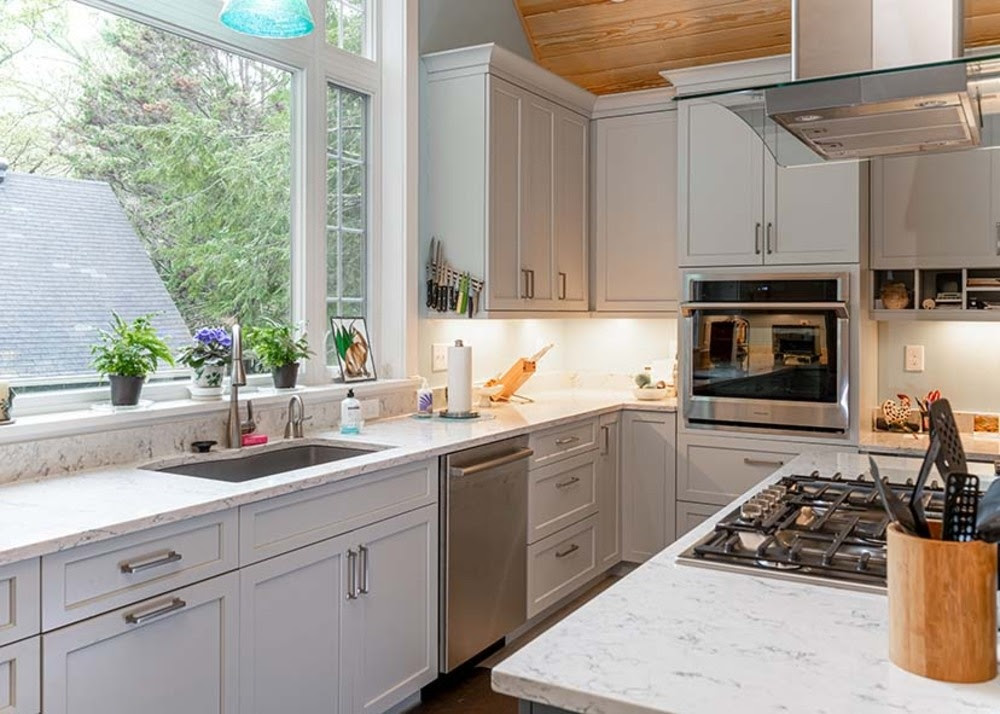 ---
In the kitchen, we added a "pocket office" - an efficient small workspace that makes it easy to stay organized! The opening underneath the counter is wide enough to accommodate a chair or a mobility aid.
Throughout the house, we widened all the doorways to 3 feet, and the hallways to at least 4 feet. This is compliant with ADA requirements and allows for easy access with mobility aids.
---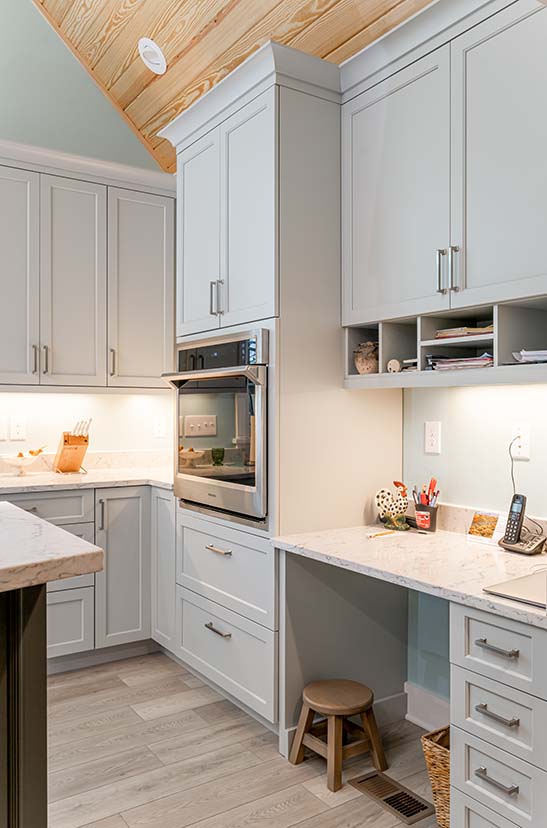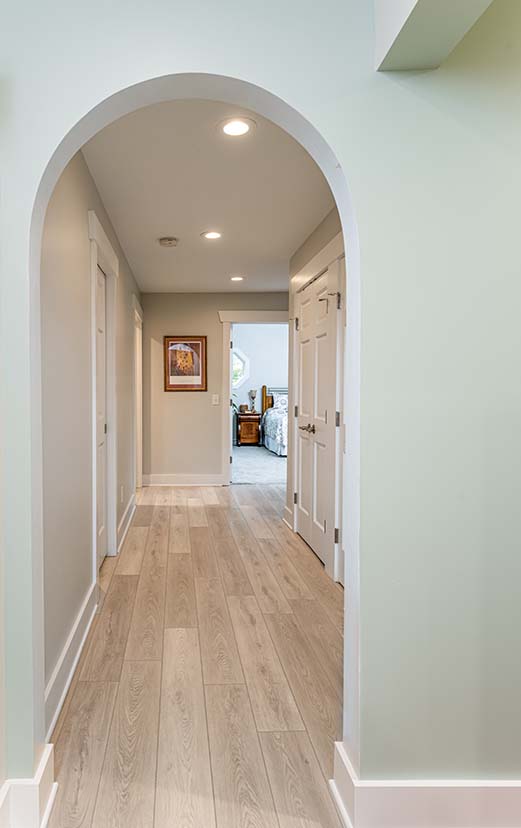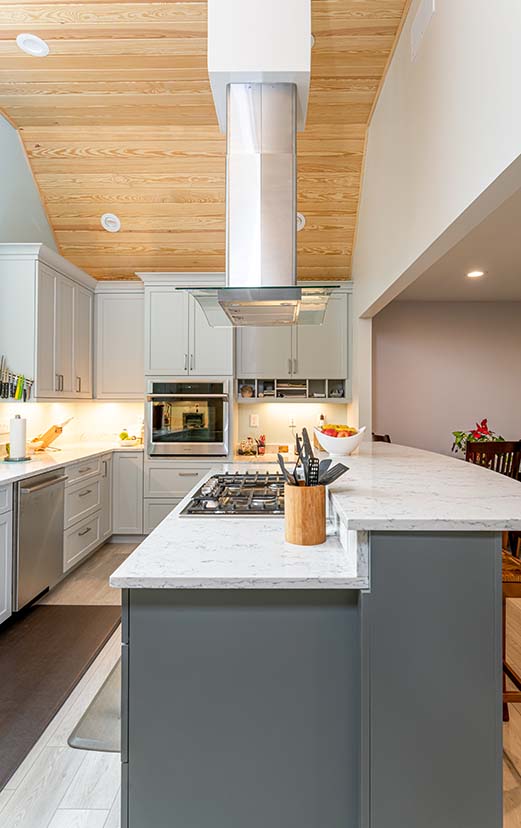 ---
---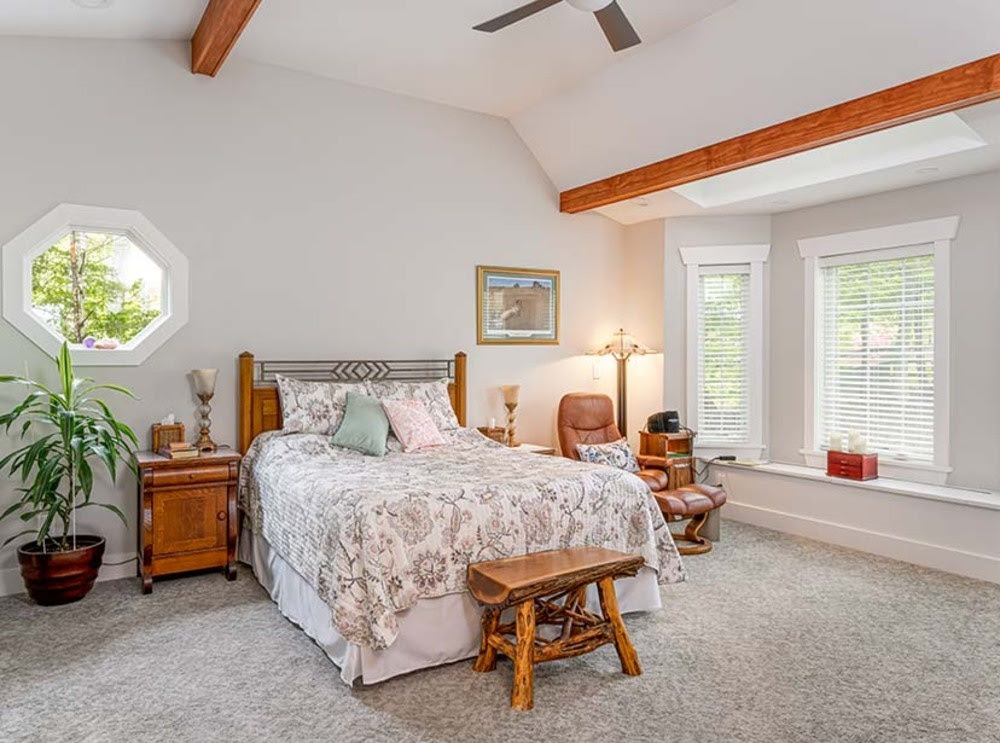 The bathroom has special features to be ADA-compliant, including a curbless, walk-in shower, grab bars, and a detachable shower head that can be used in either a fixed position or hand-held, to meet ADA standards.
The new lever-style faucets and doorknobs make them easy to use, even in the event of arthritis or reduced mobility. Even the new toilet is an ADA-compliant comfort height!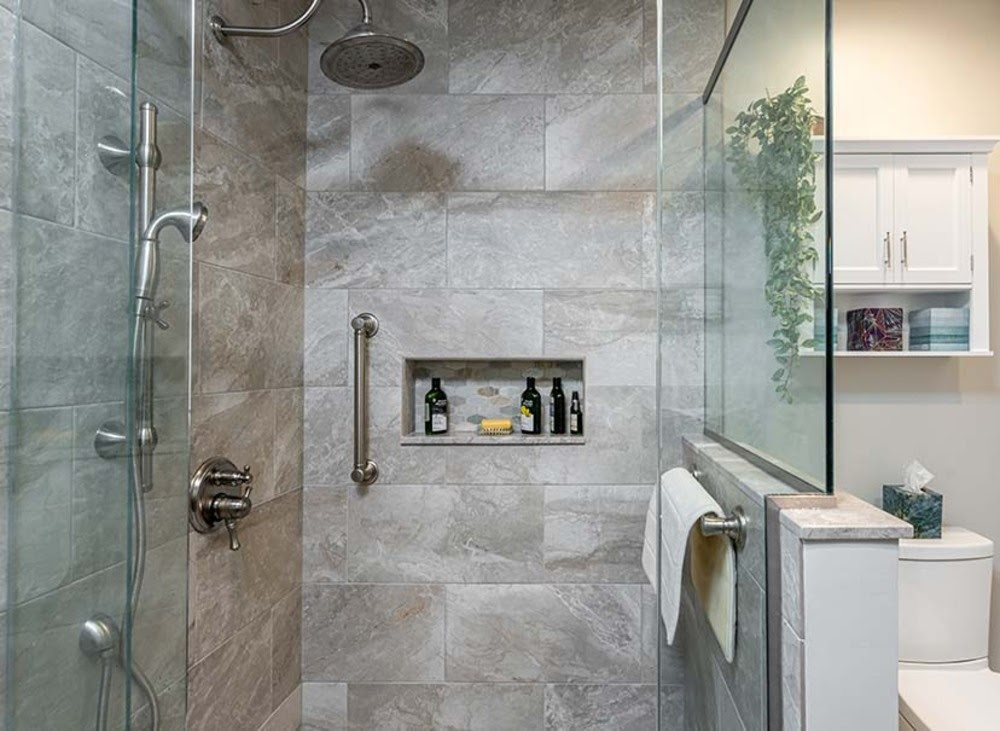 ---
Moving on to the master suite, the bedroom is now a wonderful, airy oasis - perfect for this mountain home.
After enlarging the bedroom, we added a large walk-in closet and ensuite bathroom. This brought a comfortable living space down to the first floor, eliminating the need to go upstairs when mobility is an issue. Even the carpet in the master suite is a low-pile height carpet, which is ADA-compliant
---
---
---
---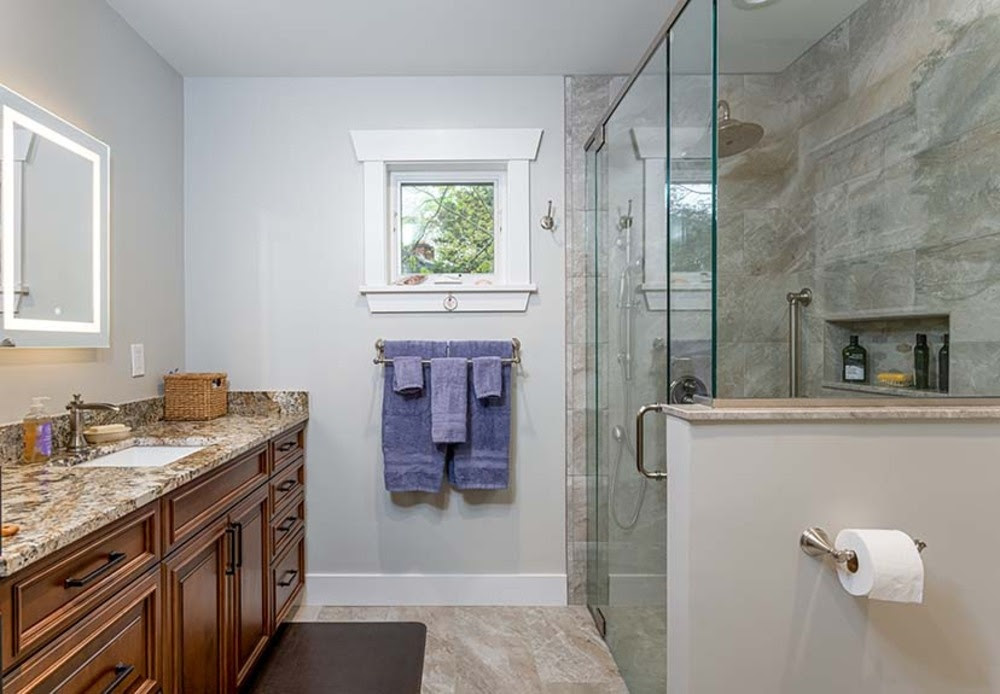 ---
We love the calming, natural look of this tile. Most of all, we love knowing that these spaces will provide a high level of ease and comfort for the homeowners in the future! 
---
---
Industry Trends + Remodeling TipsFlexible Spaces for 2021
---
One thing was clear this year: as people spent exponentially more time at home, builders and remodeling companies became busier than ever!  Spending more time at home certainly helped people realize what they wanted to change about their home - and many people found themselves needing to use their spaces in new ways, as daily activities like school, work, and exercise took place at home for the first time.

Here are a few trends that we see continuing into 2021, and beyond.

Home Offices and Study Spaces 

If you didn't have a designated home office before, early 2020 may have found you working from your couch, or carving out a nook in your dining room. This type of space became in high demand this year, as hard-working home offices for remote work, video meetings, schoolwork, and other tasks became vital. Remote work isn't going away in 2021, and homeowners will continue to need efficient, dedicated offices and study spaces.

Separate Multi-Use Units

This year, we saw families drawing close again - sometimes, very close together!  Whether your 30-year-old son abandoned his pricey San Francisco apartment to live at Mom and Dad's again (thankfully, he now knows how to cook!), or perhaps you became a caretaker for your mother this year, and it felt safest for her to stay in your home . . .  Creating or improving separate dwelling units and extended living spaces became especially popular this year, and we expect this trend to continue in 2021. These can take many forms: a garage or carriage house apartment, a backyard cottage, a basement apartment, or a bedroom with an ensuite bathroom. No matter how large or small the space, privacy and comfort are key for you and any relatives who may be sharing your home.

Home Gym or Hobby Space 

Whether you needed a place to work up a sweat, a calm (and quiet) retreat to practice your yoga, or a room to spread out with your craft projects - many people discovered they want and need to carve out new space at home for exercise or hobbies. In 2021, we anticipate that many people will continue to think creatively about how they want to use and enjoy their homes.

Are you thinking about reinventing your living space in 2021? Contact our Semper Fi team for a complimentary phone consultation.
 CUSTOM REMODELING

COMPANY NEWS

---
---
You will also be able to see the list of winners in this year's
Parade of Homes
& Awards Magazine.  Make sure to take a peek at the back page of the magazine, as we are an associate feature builder this year!
---
As Always, Don't Forget to Periodically Check our Website and Social Media Sites for More Company News & Trends!
---